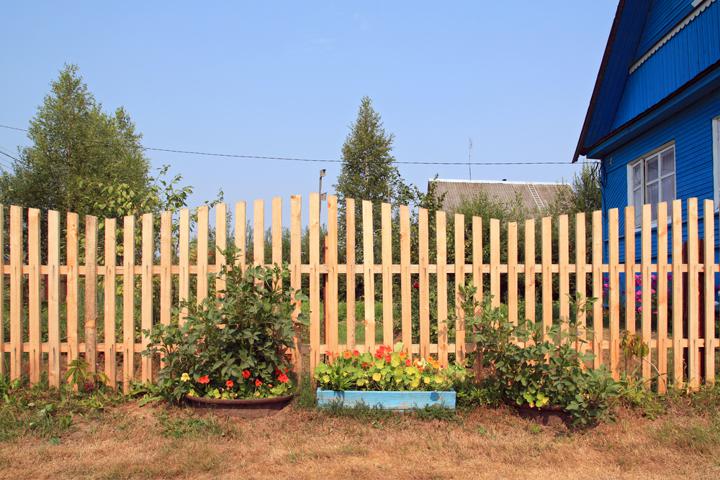 Wood fencing is a smart choice for your home. The material is durable and sturdy. Hence, it will keep intruders from breaking in and ensure the safety of the residents. Moreover, wood fences have an aesthetic appeal and elevate the curb appeal. You can create a beautiful structure around your house with wood fencing. However, you must keep in mind that wood fencing will require timely maintenance. Otherwise, the fences will get damaged over time. As a result, the wood fencing will lose its aesthetic beauty and structural integrity. Maintaining your wood fencing is a crucial task. It will ensure that wood fences last longer than their average lifespan. Also, you will not have to spend a fortune on repairs. If you are not sure about how to maintain your wood fencing, here are a few simple tips that will help you:
01 of 05 Take care of the material
Wood is an organic material. Hence, it will damage and rot over time if not maintained properly. One of the most important things is sealing the wood fence pickets with wood sealant. This will help to extend the lifespan of your wood fencing. If you did not paint your wood fencing, you must treat it with water-repellent sealant at least once a year. When treated timely, the wood fencing does not get affected by climate change. When you hire a professional service provider like AA Fence Gate, the experts will stain the fencing during the installation process. However, staining the wood fencing is not a one-time process and should be repeated every 2 to 3 years. This will ensure that your wood fencing does not get damaged and appear new for years.
If you paint the wood fencing, repeat it every 2 to 3 years. You may have to repaint more frequently depending on the weather condition of your region. Timely inspection will help to understand if the wood fencing requires painting. Chipping and cracking are indicators that you will have to repaint the wood fencing soon. The sultry weather in Florida can affect your wood fencing. Hence, you will have to ensure that the wood fencing is sealed or repainted timely.
02 of 05 Avoid adding unnecessary weight
Many homeowners add many decorative items like plants, metal ornaments, etc. to their wood fencing. This elevates the overall look of the fences. However, you will have to be careful while decorating them. The weight of the decoration can affect the structural integrity of your wood fencing over time. If you hang heavy items on the fences, the weight will cause them to sag over time. As long as you use small and light decorations, your fences will stay just fine. In case you want to use heavy decorations, only hang them on the sturdy posts and not the fence boards.
If you ever notice vines and shrubs on a fence, you must get rid of them immediately. Otherwise, the structural integrity of your wooden fencing will get affected over time. Also, always trim the bushes along the fencing. They can push the fences as they grow.
03 of 05 Keep your wood fencing protected from water
Exposure to water can make wood rot fast. If you are installing wood fencing outdoors, you cannot keep it protected from water. However, it is important to reduce exposure to water as much as possible. Never allow small plants to grow on your fences. Since they retain moisture, they will damage your wood fencing. Also, do not let the plants and bushes along the fence line touch your wooden fencing.
The bottom of the pickets should not touch the ground as well. This is because the moisture from the soil can seep into the boards and rot them. Even if the fences have been properly checked after installation, you must check them timely as soil shifts over time and can come in contact with the bottom of your fence.
04 of 05 Never delay repairs
Many people are under the impression that wood fencing will not ever get damaged if they invest in good quality materials. This is not exactly true as wood fencing can get damaged under certain circumstances even if you opt for the best option available in the market. For instance, strong wind storms can damage wood fencing. Similarly, severe weather conditions can take a huge toll on the structural integrity of wood fencing. As a result, the fencing can sag, loose boards, break, rot, etc. You will have to inspect the wood fencing timely and look for signs of any damage. If you ever notice anything, you must act immediately. Ignoring it can further increase the damage and repairing it will become more difficult and expensive later.
You can try taking care of the fencing using DIY techniques. However, it may not be the right decision if you are inexperienced as you can increase the damage further. It is always best to get in touch with a professional service provider. AA Fence Gate can help you with all types of fence repairs. The experts will carefully assess the condition of the wood fencing after visiting the site and come up with the best solutions for you.
05 of 05 Pay attention to the hardware condition
Caring for the wood is not sufficient. You will have to care for the hardware used in the fencing as well. If they rust or get damaged, the overall structural integrity of the fence will be lost. Hence, they should be kept in top condition. Good quality hardware should always be used, to begin with. Professional service providers like AA Fence Gate only use the best quality weather-proof hardware for wood fencing. The steel hardware will not rust or get damaged and ensure that the wood fencing lasts a longer period of time. However, you will have to take care of a few small things as the owner. For instance, all locks and hinges should be oiled timely so that they do not rust and function smoothly.