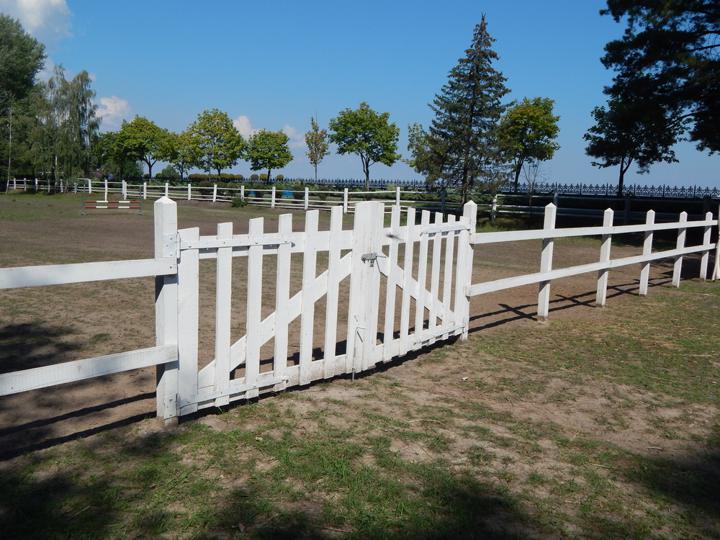 Secure agricultural fences and gateways are vital to your farm's infrastructure. They serve as a boundary to protect your livestock and crops. 
To properly satisfy the demands of your cattle, you must have a specialist understanding of the many various types of farm fencing. We have over 10 years of expertise installing agricultural fences of all kinds, and our roots are in farm fencing. Among the various services we provide are installing electric cow fences, barbed wire fences, page wire fences, and electric horse fences. We build strong, long-lasting post and wire livestock fences.
One of the area's most reputable farm fencing businesses, All American Fence and Gate serves customers around the country. Contractors for agricultural fencing you can depend on.
Whether it's wildlife fencing, pasture fencing for cattle, fencing for horses, ranch style and paddocks, pens, and more, we'll use our knowledge to develop your unique solution.
Quality agricultural fencing
We provide a comprehensive selection of goods to meet your needs, including a resilient general-purpose fence that has been pressure treated to endure all types of weather.
With our extensive expertise and understanding, our team can assist you in locating the ideal product for your requirements. 
Types of fencing:
Badger fencing

Deer fencing

Rabbit fencing

Chicken fencing

Electric fencing    

Sheep and cattle yards
Cattle Fence Designs
There are various kinds of fences for cattle, as you presumably already know if you've been seeking suggestions. We provide high-tensile cattle fencing made of woven and smooth wire, also known as "page wire." Post spacing for high tensile fences is substantially broader than for other types of fencing. To add to the security, we also install electrified wire. We have also built barbed wire fencing for cattle in the past. Said, the greatest cow fences are those that are created to satisfy particular requirements. You are assured that we will advise you on the best course of action based on the size of your land and herd. We pound pressure-treated or cedar high-quality wood farm fence posts to ensure your fence is solid. T-Posts are also included in some of our designs. We add bracing assemblies to your corners to support the lines.
Livestock Fence Installation for Horses
If you want high-quality horse fencing, you'll need knowledge and experience to finish the task on schedule and within your budget. One size does not fit all when installing wire horse fences. We will walk you through the entire procedure from start to finish. We will evaluate your property and your needs, provide recommendations regarding the type of fence that will best serve those needs, and manage the entire installation process. We take great pride in being Florida's top supplier of horse fencing.
Sheep & Goat
When selecting a fence for your sheep, goats, or other small animals, security is crucial. We employ wire mesh with set knots, and the horizontal and vertical fence wire connections are welded together to create the mesh. A welded wire fence also offers protection from outside predators since it prevents animals from climbing it.
Steel Farm Gates & Aluminum Farm Gates
Without a suitable gate, a cattle fence installation is incomplete. We have a variety of gates, from aluminum farm gates that are lightweight, sturdy, and long-lasting to steel tube gates for a more affordable option. Aluminum is unparalleled for a more streamlined appearance. We can add welded no-climb wire or even a unique color to any gate to make it more unique. Additionally, we provide a range of gate hardware.
Paddocks
We can help you design the specific paddock layout that best suits your livestock's needs and your property's footprint. 
Wildlife Fence
Using site-specific materials such as pounded steel posts and treated wood posts, we design fence solutions that can accommodate the needs of various types of wildlife and livestock. This is not your typical wire farm fence. The high-tensile steel wire is extremely strong and can be stretched extremely tightly, resulting in an extremely long-lasting and durable perimeter fence.
We provide expert fencing installations throughout Florida and beyond, whether you require them as a stand-alone service or as part of a comprehensive agricultural contracting package.
For each project, All American Fence and Gate is committed to finding the best fencing materials available. Regardless of the project's size, we promise that our clients will receive the highest quality customer care and expert craftsmanship. We are able to install a variety of fences to serve your needs since we have the tools and expertise needed. As part of the installation procedure, we may also offer the groundwork services.
Agricultural fencing & farm fencing experts
For more than 10 years, All American Fence and Gate has supplied and installed all sorts of agricultural fencing and gates to meet various agricultural demands. Our team of professionals will be able to assist you with anything from barbed wire fencing to cattle fencing. We can offer you the greatest fence products at reasonable prices since we have the experience, understanding, and expertise in doing so.
Our agricultural fences are ideal for defining borders for cattle, sheep, pigs, and goats as well as for stock proofing and subdividing land. Depending on the kind of animal you have on your property, they can be utilized in a variety of ways. 
Our Agricultural fences are built of strong materials that require little upkeep over the course of many years. Our specialists will assist you in choosing the sort of fence that can be the most suitable for your purposes, whether you need to protect your farm from attackers or keep the livestock secure inside their enclosures.
Contact us right away to learn more about our services!